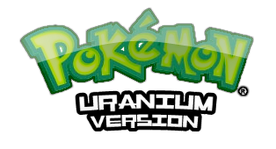 Pokemon Uranium
is a Pokemon fan game made in RMXP.
It takes place in the Tandor region, and contains mainly Fakemon but some official Pokemon as well.
The plot is mostly conventional, although there is a tournament rather than the elite four.
Pokemon Uranium features 200 Pokemon, of which around 166 are new.
Official forum thread here.
Demo 2.1 download here.
Dex Listing
Edit
A list of the complete Pokemon Uranium Pokedex, which includes Fakemon as well as official Pokemon, can be found here.
The following list contains only the Fakemon that appear in this fan game: